15 December 2022
Poster session in Film and Media: Master students present their empirical projects on socio-mediated scandals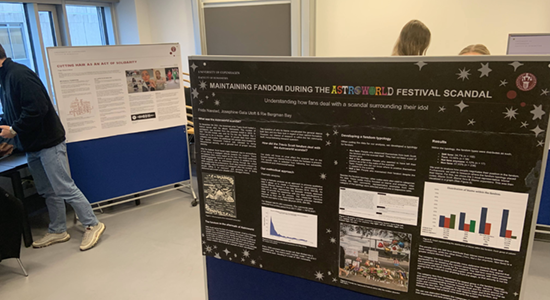 Integrating research and teaching is one of the pillars of education at the University of Copenhagen. In the Film and Media study program, teachers not only confront students with state-of-the-art research but also have the ambition to equip them with the methods skills to conduct actual research. In the autumn semester 2022/23, the students in the master course "Research Design and Empirical Methods" (Teacher: Manuel Menke) took research into their own hands to answer the question how scandals have changed due to social media communication and the participation of users in debates around scandalous transgressions and injustices on Reddit, Twitter, TikTok etc.
To give these ambitious projects the deserved attention, the course ended with a public poster session in which the students presented their projects to interested guests. A room with snacks, beverages, candles, and Christmas decoration set the mood for a hyggelig, yet professional display of students' achievements. The eight projects were a testament to the creativity that emerges in successful research-teaching integration, showed how the students applied digital methods, and offered new insights into the communicative dynamics of scandals today.
The poster session was financed with the KU research-integration grant, which is a great instrument that allows teachers to experiment with new formats and didactic approaches to improve the linkage between teaching and research in study programs. The goal of the poster session was to re-create an authentic academic setting known from conferences to disseminate knowledge within the University. In a second step, a group of students will produce a popular sciences podcast about the seminar and the findings of some of the projects. So stay tuned…
The empirical projects:
Users' scandal communication about the deplatforming of public figures
Peter Falktoft: Scandals as self-promotion in journalism
Maintaining Fandom during the Astroworld Festival scandal
The Power of Memes: Scandalizing diversity in the Lord of the Rings series
Celebrity sex scandals and their impact on parasocial relationships
House of Hammer: Scandalous communication in and around the Armie Hammer documentary
Creating attention for the women in Iran: Cutting hair as a "scandalous" act of solidarity
The deplatforming of Andrew Tate: How intergroup behavior is communicated on Reddit
Read more about the poster session in autumn 2021/22.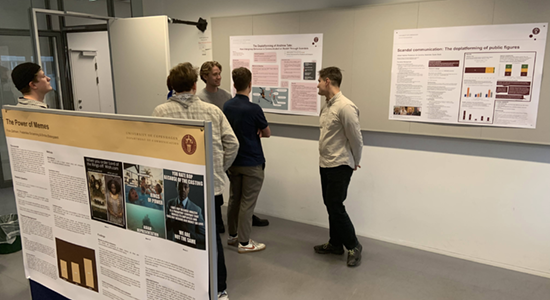 Topics