14 September 2015
New volume of the journal Northern Lights – Film and Media Studies Yearbook
The 2015 volume of the journal Northern Lights titled "Books and publishing in a digital age" concerns the ongoing transformations of the medium of the book in terms of technology, industry, aesthetics and culture.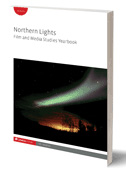 It is edited by Rasmus Helles and Stig Hjarvard from MEF and brings together perspectives from several research fields, in particular media studies, publishing studies, and literary sociology.
In the first part a series of articles deal with the changing technological and industrial context of book publishing, in particular digitalization of the industry, the emergence of e-books and audiobooks, and the influence of open access policies. In the second part of the volume the contributions focus on the transformations of the book medium itself, i.e. how texts and literary aesthetics are influenced by new technologies and how authorship and reading of books are culturally changed.

Visit the publisher Intellect's website for more information
Table of contents:
 
Stig Hjarvard and Rasmus Helles: "Books and publishing in a digital age – An introduction"
 
Ann Steiner: "Selling books and digital files: A comparative study of the sales of books and e-books in Sweden"
 
Skans Kersti Nilsson, Elena Maceviciute, Tom Wilson, Annika Bergström and Lars Höglund: "The tensions of e-book creation and distribution in a small-language culture"
 
Stig Hjarvard and Rasmus Helles: "Going digital: Changing the game of Danish publishing"
 
Casey Brienza: "Publishing between profit and public value: Academic books and open access policies in the United Kingdom"
 
Terje Colbjørnsen: "The accidental avant-garde: Audiobook technologies and publishing strategies from cassette tapes to online streaming services"
 
Sara Leckner: " The (be)coming of the book: the transformation of a text medium in the late age of print"
 
Tore Rye Andersen:  'Black Box' in flux: Locating the literary work between media

Sarah Mygind: "McSweeney's and the act of framing: The digital excerpt between work and marketing"

Toke Riis Ebbesen: "The multiplicity of the digital textbook as design object"